This month I have been trying to catch up on all my Mad Men back episodes to be prepared for the second half of the season finale starting April 5 and I am obsessing over Megan Draper!(Played by Jessica Pare). Even though the series actually takes place through 1960-1969, Megan's character is right on That 70's Look trend seen this spring and I am definitely going to incorporate her looks into this season's wardrobe! I'm obsessed over wardrobe, hair, and makeup! Though don't try all 3 at the same time, you will look as if you were attending a Halloween costume party…..unless that is the look you are going for.
Here are some of my favorite Megan Draper looks this season: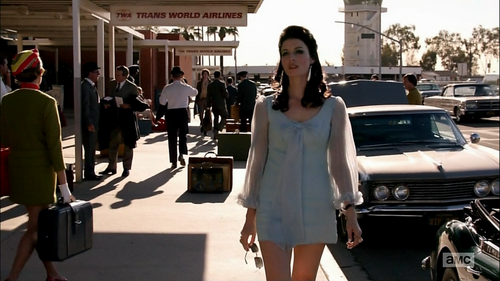 Here you can def steal her makeup look: Blue and Golden Yellows are so in this season.
Colored Suede!!! What did I tell you???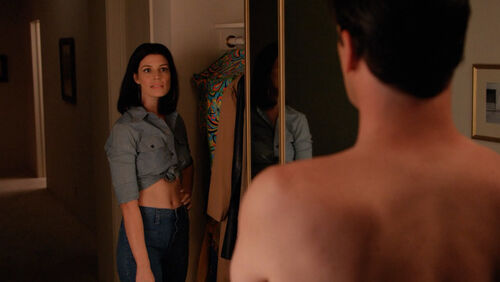 Denim, Denim, Denim!
Floral dress that would flow in the wind 😉
And last but not least…..a little bit of laser cut lace (Paris Picnic) to bring it all together!
Photos from Mad Men Wiki
So for that past seasons ombre hair has been on top of the list. Everyone has tried or should try this look, it's fresh and can be fun. Now you can update that ombre look with Hair Chalk! Use it to color your ends for a funky look. If you want something more permanent go for a colorful dye job, but I think chalk is just a little more fun since you can change the color as frequently as you want! I'm ready this season with my ombre hair and some color chalks stashed in my vanity.
This is the pastel color I currently have from Sephora but I am captivated by  Urban Outfitters Rainbow Set (Sold Out!)
No matter…..follow this tutorial I found on Jacqueline Goff 's board!